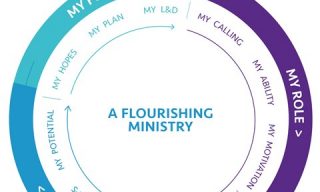 About Ministerial Development Conversation
Ministerial Development Conversation is a confidential discussion with a trained facilitator that supports and enables those in the ministry to reflect on their practice in their context. This conversation provides an opportunity to:
Reflect on you: My Role
Take stock of your current appointment: My Ministry
Create clarity, supporting you to think through what your next steps may be: My Future
Take action and be empowered to do so.
The conversation is a space set aside for you to explore what you need for the challenges of ministry today.
MDC is a flexible model and sessions can either take place face to face or via Skype/FaceTime/Zoom/Teams.