Some of our friends have recommend a few titles to keep us engaged through lockdown and we wanted to share these with you. Have a look – if any appeal to you, it's not too late to add them to your list…
We're trying hard to shop local and independent. That might not always be possible where you live, so check out the new online, independent bookshop, which you can visit wherever you are. Browse their online bookshop here.
Wrestling with Rest
Busyness is a sickness of the soul that affects many today–and it is especially detrimental to young people, who are finding their identity shaped by ongoing resume-building, constant digital communication, and unceasing activity. The last thing they have time for is rest. But rest–Sabbath–is necessary for youth, not just because of who they are socially, emotionally, and physiologically, but because of who God has made them to be and wants them to be.
Nathan Stucky shows that rest challenges youth whose identities are rooted in productivity, efficiency, achievement, and accom­plishment. For them, the notion of Sabbath grace both appeals and disorients. Yet through the Sabbath, God invites young people into an identity rooted and grounded in the grace, life, and provision of God. Wrestling with Rest offers biblical and practical advice for helping youth to discover their God-given identity, in which they can truly find rest.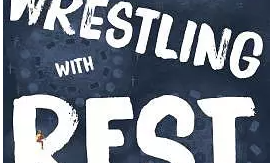 Everything is Figureoutable by Marie Forleo
About six months ago I heard a snippet from Marie Forleo as she was interviewed on TV. She was talking about her philosophy (and new book) based on the premise that 'everything is figureoutable.' I misremembered the phrase, but found myself returning again and again to the idea that everything is figureoutable (or workoutable as I remembered it). I wrote the phrase on a chalkboard in the hall and have been thinking all year about the difference this makes to everyday tasks and personal issues. I recently bought the book and, although quite American cheerleading in style, the basic belief is sound and life enhancing. Working in the field of mental health, this simple mantra has potential to calm panic and reduce anxiety while encouraging trust in self and others.
Reviewed by Catherine Wallace (Diaconate Secretary)
The Possibility of Prayer by John Starke
During these last nine months we have been told repeatedly that we are living in 'unprecedented times'. However, I've come to the realisation that a better description is that this has been an 'unrelenting' time. Therefore, it was incredibly refreshing to read 'The Possibility of Prayer' by John Starke as he encouraged me to stop, to pause and to pray. I was reminded that prayer isn't always easy, but it is essential for every single follower of Jesus. It's not only a book that taught me more, but also made me love God more and re-energised my own prayer life.
Reviewed by Andrew Rooney
Voices Out of Lockdown edited by Jan Sutch Pickard
I have reached for this short book on multiple occasions this year, when I've been searching for words to share in public worship, or for words of comfort and perspective in my own devotional life. In particular, the Haikus by Elaine Gisbourne, written out of her experience of being a Physiotherapist in a Hospice, have a rawness and a directness which I find compelling and moving. Meeting people in this book who can articulate the grief and yet also see the hope in the midst of the despair of lockdown has been a liberation for me. Highly recommended.
Reviewed by Ruth Harvey
Limitless: God's Creative Mandate for His Church by Charity Bowman Webb
God's Kingdom continues to advance…. If you have ever walked through an armoury of the Spirit, the weapons may have surprised you. Amongst the classic swords and shields did anyone happen to see a song, a paint brush or a dancers shoe, a skilful spreadsheet, an architect's plans or a business strategy? From the shelves of heaven the creative mandate is being dusted off and returned to the earth. Timely defining of our creative DNA lies in God's outstretched hand. There are two directives: there is the general outpouring of Kingdom Creativity available to all believers to energize their lives and areas of influence producing new solution, strategy and innovation. There is also the calling of the Creative Warriors, the artisans who combine skill and anointing for specific reason. The hour strikes a wakeup call for both and their intertwining purposes in the nations. Strategic objectives in the times that lie ahead. This book seeks to unpack those directives, blowing away the foggy mists of forgotten purpose, revealing one of the greatest weapons bestowed upon the church, the creative power of God.
Reviewed by Hannah Sanderson
'Tempered Resilience How Leaders Are Formed in the Crucible of Change' by Tod Bolsinger
If you are looking for easy answers about how to lead without pain, this is not the book for you.  It's a book that is honest about the pain and difficulties of leadership, yet encourages Christian leaders to pick up what they need in order to lead well.  Discovering that they are formed as they lead.
Drawing on contemporary wisdom about adaptive leadership, alongside scriptural examples and reflection, the book is laced with stories from Tod's own experience and that of others which help to bring things alive and root them in reality.  It builds on his previous book Canoeing the Mountains and far from suggesting that if we manage things well, conflict and difficulties can be avoided, it gives both encouragement to face the challenges and tools to help us navigate our way.
Written in an easy style, this book is both inspirational and instructive and what Tod writes clearly comes out of extensive listening to those involved in Christian leadership as well as the ability to reflect on his own experiences.  He has a heart to help others on the journey and it shows in what he writes!
In the book he helpfully highlights the need for us to be grounded in who we are in Christ and from there to ensure that we are teachable, attuned, adaptable and tenacious.  It is set out well but the most helpful part of the book for me was when he turned to speak about how we develop practices that "hammer in" these characteristics.  A shift from "here's what you need" to "here's how to develop these things."  It's those things I needed to hear.
Tod has been to Scotland twice to share with ministers in Path of Renewal and during those visits introduced us to some of the themes that have found their way into this new book.  They landed well with those of us who heard him share.
Reviewed by Graham Duffin
The Way of St. Benedict by Rowan Williams
This collection of essays guides the seeker through the Rule (73 of them!) of St. Benedict. We are offered the lens of this 'stabilising' Rule to explore what it means to live according to a faith-based rule of everyday life, how to live well with difference in our own local community, what it means to be searching for unity in Europe today, and how best to apply our faith to God's vision for the 'oikuemene' or whole inhabited earth. This short book is challenging and inspiring drawing on ancient wisdom for our very present context.
Reviewed by Ruth Harvey
God and the Pandemic by Tom Wright
I'd be a wealthy man if I had money in the bank for every time I'd heard someone ask, 'What is God saying to us through Covid-19?'
It's not a question that the Moderator of the General Assembly would rule as being incompetent! After all, we believe that God speaks, that 'what may be known about God is plain to see…' (Romans 1:19) And we believe that God is intimately involved in the creation, not a disinterested bystander.
So it's a not unreasonable question. Even so, it's one that we should approach with great humility and caution. It's a brave person, or a fool, who confidently declares, 'I know exactly what God is saying to us right now…' (not that that's stopped many from trying.)
In this slim volume, Tom Wright proceeds cautiously but confidently. But in all of his reflections, he asserts the following: that God is not saying anything new through Covid-19. He argues, instead, that God has said EVERYTHING through the birth, life, death and resurrection of Jesus and that there's nothing, therefore, to add.
In saying as much, Wright isn't suggesting that God 'stopped communicating' after the discovery of the empty tomb; just that whatever God might be saying to us now will be entirely consistent with 'the main message' – not, as it were, something novel.
Where does that leave us?
Certainly, we should be reflecting on our own fallibility and on our absolute dependence on God. And yes, there should be an element of contrition in our response – acknowledging that our wanton destruction of the natural environment cannot be entirely disassociated from the pandemic. While Wright acknowledges as much, he's less keen to support 'end of the world' readings – and, I suspect, rightly so.
But centrally, what we do have is 'God with us' in Christ. This, the fullest expression of God's love for us, is both the bedrock for our understanding of who God is and the inspiration for how we, as Christians, must be in the world. Covid-19 has changed none of that.
You'll get though 'God and the Pandemic' in one shortish sitting and I'm happy to suggest that it will be time well spent.
Reviewed by Martin Fair
Jack by Marilynne Robinson
For readers of Marilynne Robinson's Gilead novels (Gilead, Home and Lila), a review of Jack is superfluous – it will have been well anticipated and already devoured. Set in 1950's Iowa, the novels present the households of Protestant minister John Ames and his friend Robert Boughton. Here, the theological themes of grace and redemption are woven into the fabric of very ordinary human families (especially clergy ones) in Robinson's exquisite prose. The prodigal son of Rev Boughton, Jack is seen through the lens of his tragically destructive effects on other people. He is a waster, a thief and womaniser, whose caddish charm invokes a love which only delivers pain in return (his sister compares him to Cary Grant and Raskolnikov). Apparently unrepentant, he can't even attend his own mother's funeral.
This latest novel tells Jack's story from his own perspective, in Missouri during his 20 years of silent exile from his family. He falls in love, apparently hopelessly, with a sophisticated young black schoolteacher, Della Miles. Drawn together by their common heritage of clergy fathers and a shared love of poetry, Jack and Della's tentative relationship encounters in full the racist barriers of 1950's Missouri. Yet legal and social ostracism is not their only problem: another lies within Jack himself. With Robinson's supreme skill in revealing her characters from the inside out, we encounter Jack as a damaged soul with zero self-esteem, who accepts his own vagrancy and victimisation as normal and his own "Jackness" as irredeemable. Describing himself as the Prince of Darkness, his highest aspiration is to be harmless to others – which he believes is impossible. Della is better than him, a "perfect Christian lady", and in their circumstances his love will destroy her. Every meeting is potentially their last, as Jack battles to accept a love which can redeem him but not without pain: "You're not the Prince of Darkness. You're a talkative man with holes in his socks."
Although each of the Gilead novels stands alone, Jack will resonate most deeply with readers familiar with the others and the Pulitzer-winning Gilead may be the best place to start. Yet the overarching theme of them all is grace, worked through this complex family in all its facets: race and grace, guilt and grace, poverty and grace. Jack has no faith that change is ever possible, believing himself "irretrievably consigned to perdition." Yet in Della's view: "if you love God, every choice is made for you. There is no turning away."
Reviewed by Lynn McChlery
The Secret Lives of Church Ladies, by Deesha Philyaw
Deesha Philyaw's debut short story collection, The Secret Lives of Church Ladies, was a finalist for the 2020 National Book Award for Fiction, a finalist for The Story Prize (2020/2021), and longlisted for the 2021 PEN/Faulkner Award for Fiction. The Secret Lives of Church Ladies focuses on Black women, relationships, and the church.
Philyaw revels in the complexities of life, depicting generations of Black women navigating love, sexuality, death, family, and faith through the structures of the church. The 9 short stories are moving, funny, tender and in places, raw. The juxtaposition of the struggles of womanhood and being a "good Christian" girl is so relatable despite being couched in a Black American church context.
The first-person narrators shine through most of the stories, delivering unique and distinctive voices. I don't tend to read short story anthologies as I find them unsatisfying, I always want more, but this I read like a novel! Rarely has a writer found a way for me to connect and understand every character in just a few pages. My only critique is that given the tension between faith and life choices that do not appear to fit the implied mould of Christian life, religion was often portrayed as an obstacle. I would have liked the collection to include a story where perhaps faith in some form was found or reconciled to a character.