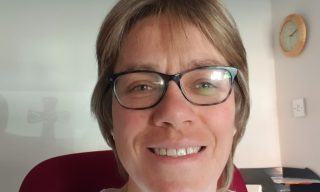 Fiona Maxwell
On my nightstand you will find …
'A History of the World in 21 Women' by Jenni Murray, the TV remote, lip balm, hand cream and sinus relief pain tablets!
A podcast I am listening to is
'Pray as you Go', a Jesuit Prayer App
A book that has changed my life (other than the Bible) is
'Leaving Church' by Barbara Brown Taylor
A TV show I binge watch
Greenleaf on Netflix
I follow — on—
I follow BBC Food on Facebook because I enjoy cooking and discovering new recipes
Music that lifts my mood is­­­­­­­­­­­­­­­­­­
Skippinish's song, 'I'm Alive'
One thing I have learned about myself over the last few weeks is
what the Italians call, 'Dolce Far Niente' (the sweetness of doing nothing). I have enjoyed time doing nothing other than simply 'being'.