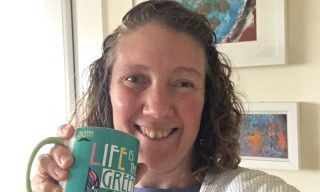 Ellen Larson-Davidson
On my nightstand you will find …
A fluffy unicorn eye-mask, a daisy photo frame with a picture of Mark, my husband, and I before children, Lego, a library book (The Book of Echoes) return date stamped 24 Mar 2020, some children's books, and did I mention Lego?!
A podcast I am listening to is
Lead Stories with Jo Saxton and Steph Williams – great on leadership and church leadership and not just for women.
A book that has changed my life (other than the Bible) is
The Active Life by Parker J. Palmer which was gifted to me by my university adviser and dear friend and introduced to the poem 'They Have Threatened Us with Resurrection' by Julia Esquivel which has both haunted and inspired me for 20 years. 'To dream awake / to keep watch asleep / to live while dying / and to already know oneself / resurrected!'
A TV show I binge watch
Just one?? Little Fires Everywhere, Buffy the Vampire Slayer, and The Medici.
I follow — on—
Sandra Boynton on Instagram (and Facebook) because I love her children's stories (Bellybutton Book & Snuggle Puppy are Manse favourites) and anyone who can create a French song about nothing in particular with YoYo Ma on cello and Weird Al Yankovic on accordian is my delightful humorous hero any day of the year (love her calendars as well 😉)
Music that lifts my mood is­­­­­­­­­­­­­­­­­­
Anything by Ben Harper and animated movie soundtracks lead to Manse Dance Parties.
One thing I have learned about myself over the last few weeks is
As much as I love that I have come from a long line of teachers, I understand why my mother chose NOT to teach her own children music or classroom teaching because I struggled to hack teaching my own children for a few months – they are better behaved for other people. Personally, I need to play and have fun. I need nature walks and to feel the cool wet grass between my toes. I love beautiful flowers and getting my fingernails dirty.