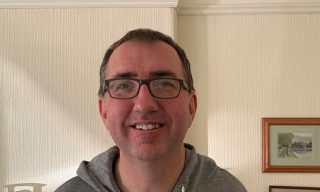 William Wilson
On my nightstand you will find …
A Bluetooth speaker, Encounter with God Bible reading notes, iPad, Tour de France 2020 guide (just finished), current novel I'm reading (The Second Sleep – Robert Harris).
A podcast I am listening to is
Kermode & Mayo's film review – still after many years.
A book that has changed my life (other than the Bible) is
Under the Unpredictable Plant – introduced me to the writings of Eugene Peterson.
A TV show I binge watch
Line of Duty
I follow — on—
I follow Tim Keller on Twitter because he's quotable, insightful, thought-provoking, profound & gracious. Andrew Cotter's Olive & Mabel for light relief.
Music that lifts my mood is­­­­­­­­­­­­­­­­­­
always changing but currently "My wanderings in the weary land" from the latest Waterboys album.
One thing I have learned about myself over the last few weeks is
Be aware of my own and other's tiredness when chairing a meeting- otherwise the meeting will be narky!