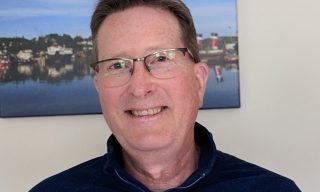 Dugald Cameron
On my nightstand you will find … I have just started reading Norman Bissell's novel of George Orwell's time on Jura. It is a blend of fact and fiction. Also re-reading, after several decades, The Gleam in the North which is romanticised load of mince about the Jacobite period; but I loved the trilogy as a child.
A podcast I am listening to is … BBC Sounds The Invention of … and you get a story of how a nation came into being. Also, the wonderful Out of Doors, exploring Scotland's rural nature and culture.
A book that has changed my life (other than the Bible) is … as a teenager – All Quiet on the Western Front / Sunset Song – both of which tear apart the patriotic spin of war. Gilead by Marilynne Robinson who won the Pulizter Prize for it; the book is full of God's grace and Reformed theology.
A TV show I binge watch is … Brooklyn Nine Nine, such a truly funny show and any Scandi noir that comes close to The Bridge.
I follow Schwaebischealbtourismus on Instagram because I love that part of Germany, and Hearts on Facebook as I am ever hopeful.
Music that lifts my mood is­­­­­­­­­­­­­­­­­­… JS Bach cantatas, and the Gaelic singer Julie Fowlis.
One thing I have learned about myself during the last while is… to truly value my wife and daughters, and the stunning beauty of the Highlands and Islands of Scotland and its flora and fauna.