Calvin Symposium on Worship
Event Details
Where
Calvin University and Calvin Theological Seminary, Grand Rapids, Michigan. or online
When
31 January 2022
see event listing
Cost
Ticket: see event listing (January 31–February 4, 2022)
About the Event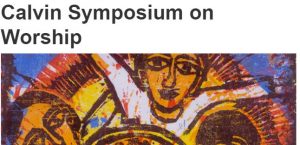 Calvin University and Calvin Theological Seminary
January 31 – February 4, 2022
Join this livestream conference, with several in-person sessions, sponsored by the Calvin Institute of Christian Worship and the Center for Excellence in Preaching, located at Calvin University and Calvin Theological Seminary, Grand Rapids, Michigan.
Updated on 11/22/2021.
Join our email list for monthly "Calvin Symposium on Worship" updates and other CICW program highlights.
We remain ready to adapt to public health guidelines that may emerge due to COVID-19.